The Living Room:
"The vintage Harvey Probber chairs swivel, allowing Brad to get to the sofa easily," says Kammi Reiss. The couch and ottoman are from
Dune
, the chandelier is from
Blueprint Lighting
, and the area rug is from
Odegard
.
Photo: Patrick Cline
In 2017, with both of their daughters out of college and living on their own, Brad and Kammi Reiss decided they should downsize to a two-bedroom. Kammi, a onetime handbag designer and magazine photo editor, started her own interior-design firm in 2009 after Brad — then in the real-estate business — purchased three hotels in 2001, and she offered to redo them.
She was in the middle of the hotels project when her husband was diagnosed with MS, which meant, over time, putting her design skills to work on modifying their family apartment to make sure he could navigate it easily.
She put that experience to work in the renovation of their new two bedroom. The Upper East Side postwar apartment incorporates stealth moves that allow for Brad's independence so he can maneuver and charge his motorized scooter throughout the rooms. "I had customized our last space, too," Reiss says, "but not with nearly as much detail as here. Also, our last apartment was much bigger, so I didn't have to be as clever about the customizations."
Part of why she liked the new place was because it had a terrace. "I wanted Brad to be able to get outside even if his body wouldn't allow for him to leave the building," she says. Many of the changes she made were typical of a rigorous updating of a postwar apartment. "I replaced the dated parquet floors with wide-plank white oak and replaced the windows with single-pane tilt-and-turns, which are just prettier and so much quieter," she says. "One thing I hate about postwar buildings is all the soffits. The builders optimized the floor space by exposing the support beams in a way that looked neither attractive nor intentional. I furred out the wall by two inches, making them flush floor to ceiling." She opened up the living and dining areas and kitchen into one room. "The walls are pale-blue/green Venetian plaster, giving the small space luminosity and depth," says Reiss.
The Foyer From Dining Area: "It has plenty of space for Brad's scooter to do a 360, and outlets on all the walls so we can charge the scooter when it's not in use."
Photo: Patrick Cline
"The foyer has a shallow table with a lamp that adds soft light."
Photo: Patrick Cline
The Dining Area: "A pedestal dining table allows a wheelchair or scooter to pull up to it, so anyone can be comfortable and fit at the table."
Photo: Patrick Cline
Other changes are subtly utilitarian. "All the walls have plywood backing from the floor to 48 inches high. This means that if I ever want to add railings or grab bars, the walls can support them." And the door hardware throughout the apartment are levers, "which require only weight and not dexterity to use," she notes. She notes as well that "All of the fabrics are treated and extra-durable and cleanable so that if he's holding a drink and it slips, there is no stress about things getting ruined."
"When my father was 49, he was diagnosed with a terminal brain tumor. My parents' house had always been filled with friends and family, and my mother was determined to keep it that way. She dragged chairs into their bedroom, and nearly every night, people would come for dinner in the bedroom," she says, explaining why she put window seats in their bedroom. "I wanted to make a room that was comfortable and soothing for us, but where other people would feel happy visiting should it come to that."
The Kitchen: "The kitchen was tight and completely inaccessible to a scooter. I shifted the fridge to where the entry had been and took down the walls between the kitchen and the dining area. This created the space for Brad to access the fridge and pantry while in his scooter. I also put the microwave at 36 inches so no one had to reach above a counter to use it, and finally, all the drawers and doors are opened with pulls so that you only need to slip your hand in and use your weight to move them; no need for dexterity."
Photo: Patrick Cline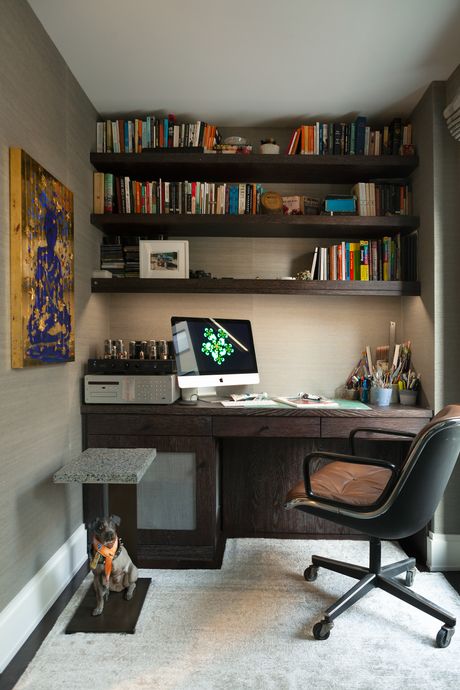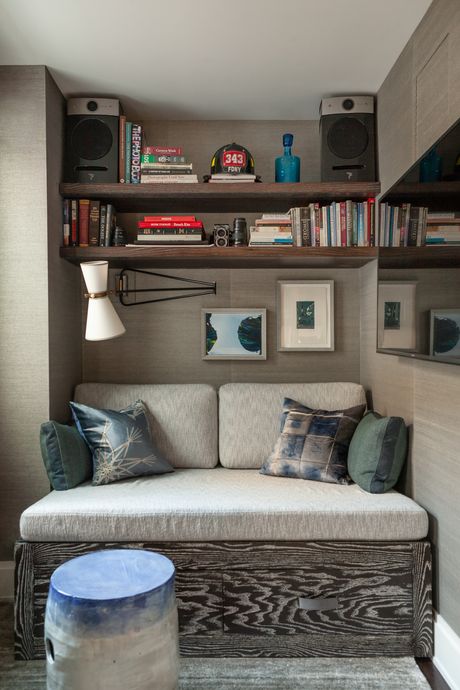 The Master Bedroom: Reiss added a window seat in the master bedroom for visitors. "While I am sorry for the reasons I am hosting dinners in my bedroom, I am so glad that I made a bed that is high enough that Brad can get in and out of it on his own, so we don't need a hospital bed, and that we have plenty of light and comfortable seating so that when people come to visit, they get cozy and stay for a while."
Photo: Patrick Cline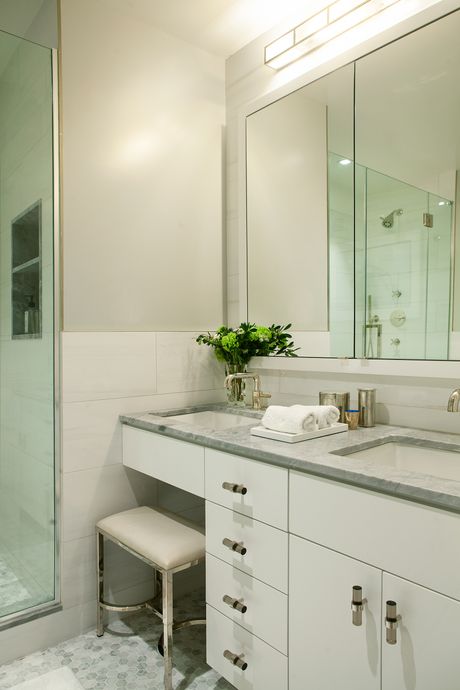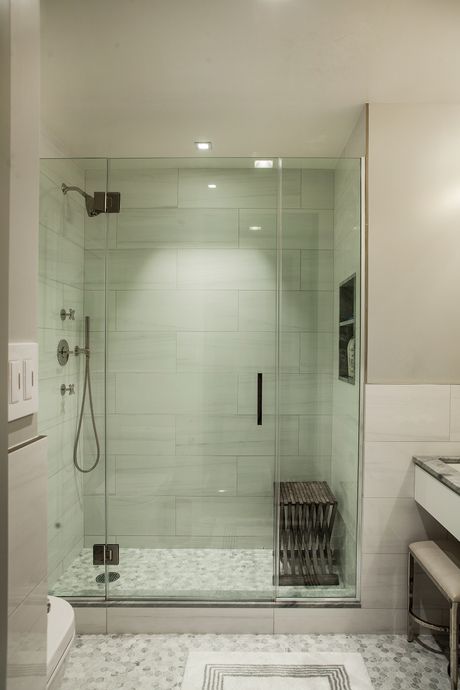 https://www.curbed.com/article/serene-scooter-accessible-two-bedroom-nyc-tour.html