"The owner had a half-pipe skateboard ramp in the loft because it was just one big open room," says Charles Tribbett, who, with wife, Laura Tribbett, bought their 3,300-square-foot Chicago loft in 2017 for $1.075 million. "Apparently, the people living below moved out because they just couldn't take it anymore. It was pretty bad."
At the time they first saw the loft, located in the downtown neighborhood of Fulton Market, the soon-to-be-married couple, who are now both 37, had been looking at property for about nine months. When they saw the loft conversion, it needed work, but the Tribbetts were pretty sure they were up to the task. Ms. Tribbett founded Outline Interiors in 2015 after nearly a decade of working for interior designers and architects including Thom Filicia and Thomas Juul-Hansen, so she knew she could transform the space. Mr. Tribbett is a corporate development executive who, at the time, didn't have a lot of experience with renovations.
"It had a view of the skyline, which Charlie wanted, and it had light, which was a priority for me," she says. "We closed and moved in a week before our wedding." She adds that moving into the unfurnished apartment made their honeymoon—and sleeping on real beds—that much nicer.
Once they were fully moved in, the couple lived in the one-bedroom condo for a year and a half while planning the renovations. During that time, they found out that Ms. Tribbett was expecting their first child, which didn't change the design plans, but did give them a sense of urgency to get the project under way before the birth.
More: Face the Music: How to Incorporate Instruments Into Your Home Design
The first priority was carving some of the vast open space into rooms with walls. "The windows are 15 feet wide, so they create a natural cadence for where to put walls," Ms. Tribbett explains. In the main living area, however, the couple chose to keep an open floor plan. "A lot of homes in Chicago are very linear. You get the same floor plan, which is dictated by the narrow lots. It's a living room, then kitchen, then family room." With their abundance of square footage, Ms. Tribbett could give them the openness they craved, while still delineating functional areas for seating, cooking, entertaining and dining.
Once the renovation plans were approved by both the building's HOA and the city, the couple moved into a furnished apartment nearby so the demolition could start. "Classic optimism," Ms. Tribbett says, admitting that as a professional she should have known better. "We had a three- to four-month lease and we just hoped we would be further along than we were."
After the lease was up, but before the renovation was even close to being finished, the couple and their newborn daughter, Natalie, moved in with Mr. Tribbett's parents, who live in Chicago's Irving Park neighborhood. "I didn't want to move back in with my parents, but it was great," he says. "They have the space and we had all this help."
They stayed for six months, and Ms. Tribbett says. "We were skeptical going into it, but it strengthened my relationship with his parents; it was so good."
More: Pulling off a Modern Farmhouse Living Room
During the nine months they were out of the condo, Ms. Tribbett's longtime contractor renovated the existing bathrooms and kitchen, installed a new bathroom and added walls to create the new rooms. "We splurged on the kitchen, primary bathroom and closet for sure," she says. "We tried to make bold, but smart decisions." One of those decisions was the navy blue tile for the primary bathroom. Because of the steam shower and spacious room design, they needed almost 1,000 square feet of tile. Ms. Tribbett says she balanced out what they spent on Waterworks fixtures by choosing less expensive tile. "We invested in things we needed to perform and that were important to us," she says. "Things that are background or decorative, we went with more budget-friendly items." The couple spent around $500,000 for construction, labor, fixtures and finishes, an amount that reflects the professional discounts Ms. Tribbett negotiated with longtime suppliers.
The other balance the couple had to find was separating work from their relationship when it came to managing the project. "It's one thing for a client to say, 'No, that's not my vision.' Laura will do three other iterations and they'll align on one that looks good," Mr. Tribbett says. "But if I didn't like something, it was personal, and she felt like she was letting me down." The key to their eventual success in managing the project came from Mr. Tribbett. "I learned that you have to trust your designer," he says.
After living for almost a year in the finished loft, the couple decided on one more, fortunately less-arduous, redesign. Mr. Tribbett's home office, which he used extensively during Covid, was separated from the main living area by a glass wall and door. Once Natalie could toddle over to the office, it proved to be a little too disruptive for all. "We decided to convert the guest suite to his office and our home gym," Ms. Tribbett says. "His old office is now a sitting area with a pullout sofa for guests." They finished that renovation, which didn't require them to relocate, just weeks before their second daughter, Jasper, was born in August 2021. Once Jasper sleeps through the night, the two girls will share the nursery.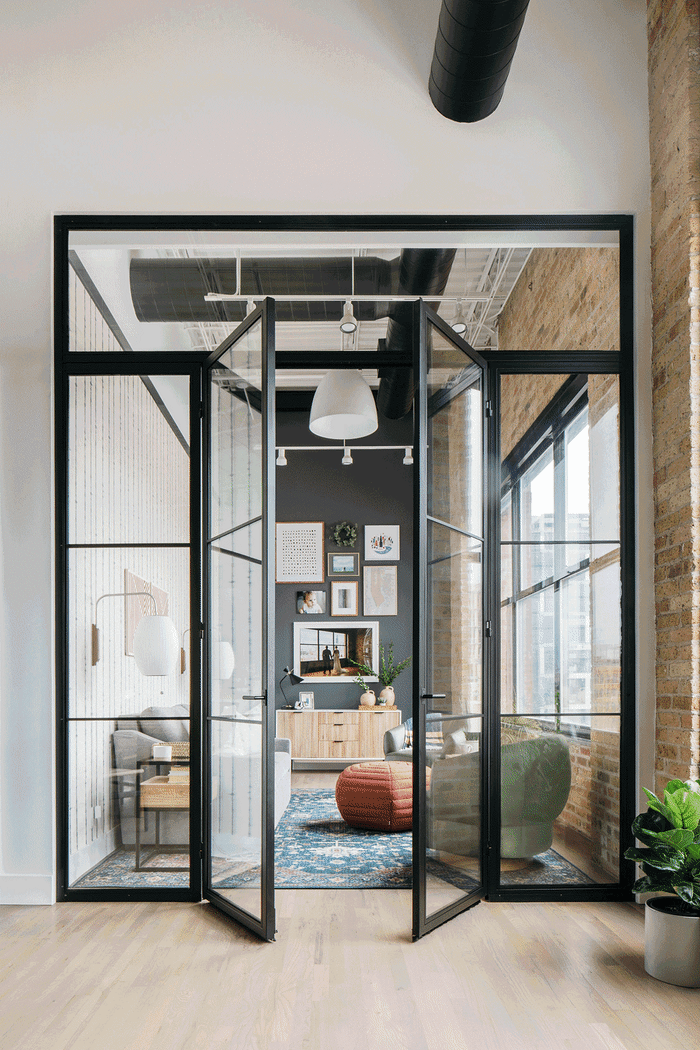 "After most people go through a renovation, they probably never want to do it again, but I loved seeing it come together," Mr. Tribbett says. "I loved seeing the walls go up. It's so tangible. It was a long time, but it was a lot of fun."
"This renovation has probably ruined real estate for us," says Ms. Tribbett. "We'll never buy new construction. We'll have to buy another unfinished space and rip it apart."
https://www.mansionglobal.com/articles/this-couple-turned-a-big-empty-loft-into-an-intimate-family-home-01643228292