the renovated villa in forte dei marmi exudes A rational design
originally a single-family villa from the sixties, a trademark in forte dei marmi, this renovated italian dwelling presents itself as a rational structure with large volumes in balance with all that surrounds it, starting from the big maritime pines that dialogue with the house. 
architect massimo iosa ghini was commissioned to renovate the entire villa. he mainly focused on finding a new meaning for the garden surrounding the property, the two floors, as well as the basement. 'it was mostly a matter of cleaning things up, bringing a sense of lightness, in keeping with the desires of the owners,' he explains. 

all images © pietro savorelli
reorganizing all spaces and levels to optimize livability
respecting the existing, iosa ghini (see more here) strengthened the mediterrenean feel within the renovated villa in forte dei marmi. additionally, he revised the original volumes — creating large openings between inside and outside in a sort of geometric balance. among these volumes are the outer portico and covered terrace overlooking the garden. 
moving to the interior, the architect decided to reorganize the ground floor plan to make its spaces 'more livable and rational'. as a result, a large living area holds a big fireplace that visually connects the villa to its vast surroundings. complementing the living area are three guestrooms with private bathrooms and a small independent lodging for household staff. the enlarged kitchen, meanwhile, overlooks the living space through a glass wall cut, in axis with the fireplace. this composition offers a continuous visual connection with the entrance, garden, and swimming pool.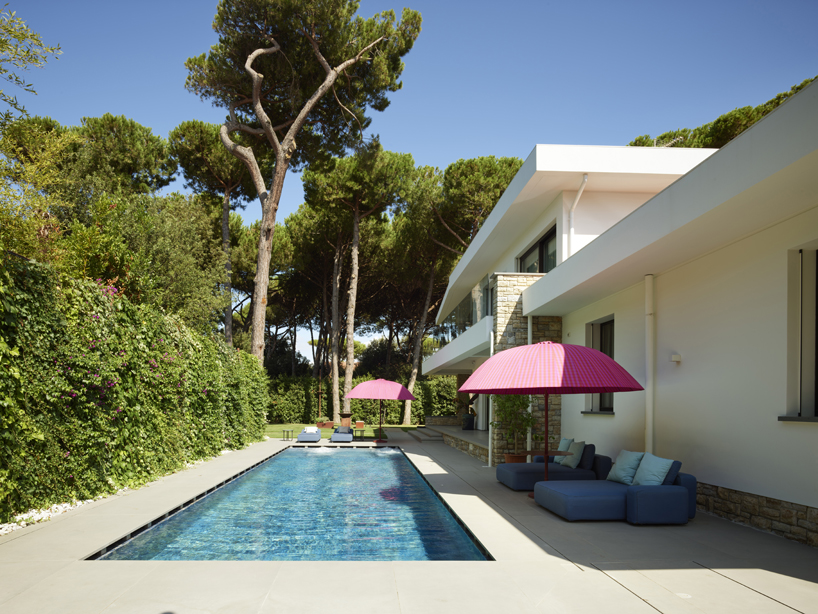 in the basement, a space has been set aside for wine. 'this was a request of the owners, true wine connoisseurs, a space that creates a narrative of bottles and vintages, to welcome guests for tastings,' says iosa ghini. 
as for the more private parts of the villa in forte dei marmi, a staircase with a crystal balustrade leads to the upper level, where sits two bedrooms for the children, and a large master bedroom with a living room and private bathroom. the parents' room also opens onto a covered outdoor terrace, equipped with fitness gear, from which one can see, through the foliage of pine trees, a view of the tuscan sea.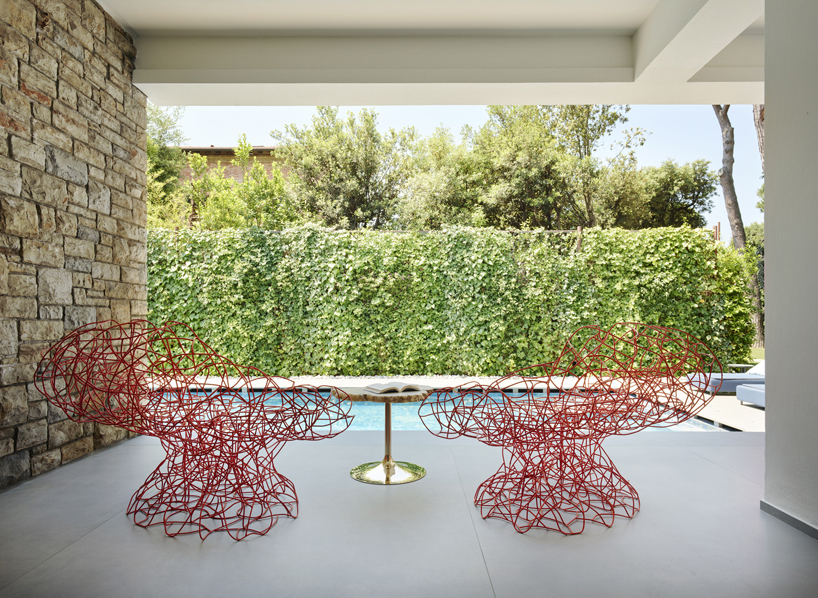 a large, outdoor hydromassage swimming pool and connected dressing rooms complete the project. the architect also points out another feature of the renovated villa: 'we have added solar panels so that much of the house and the outdoor pool are powered by thermal and photovoltaic solar energy. this type of approach is always pertinent, never banal.' solar power also helps with pool water heating. 
concluding his thoughts, iosa ghini shares: 'I am very curious about the work of others and I like to choose pieces that are not necessarily my creations. when the job is almost finished, I may add at most a pair of my designs. the only things that are mine in this décor are the cannettata lamp designed for de majo illuminazione and the leva lamps by leucos.'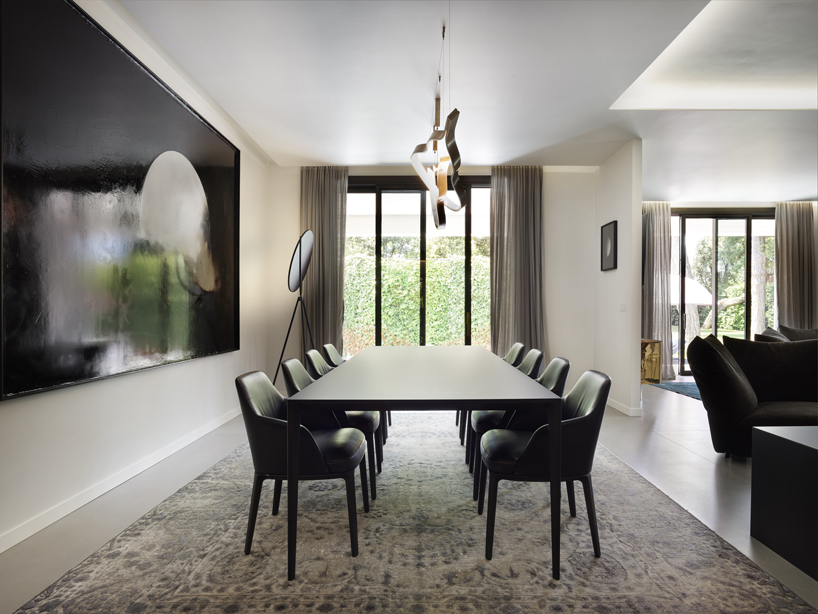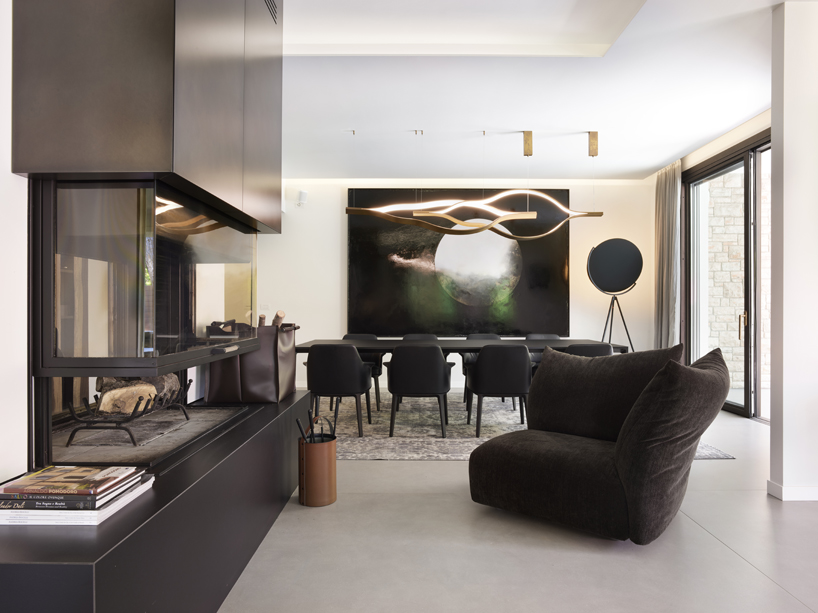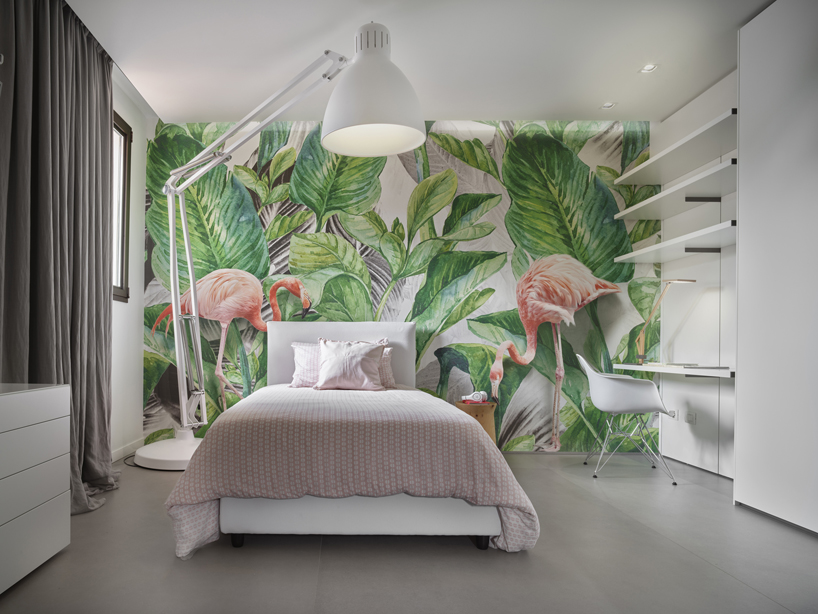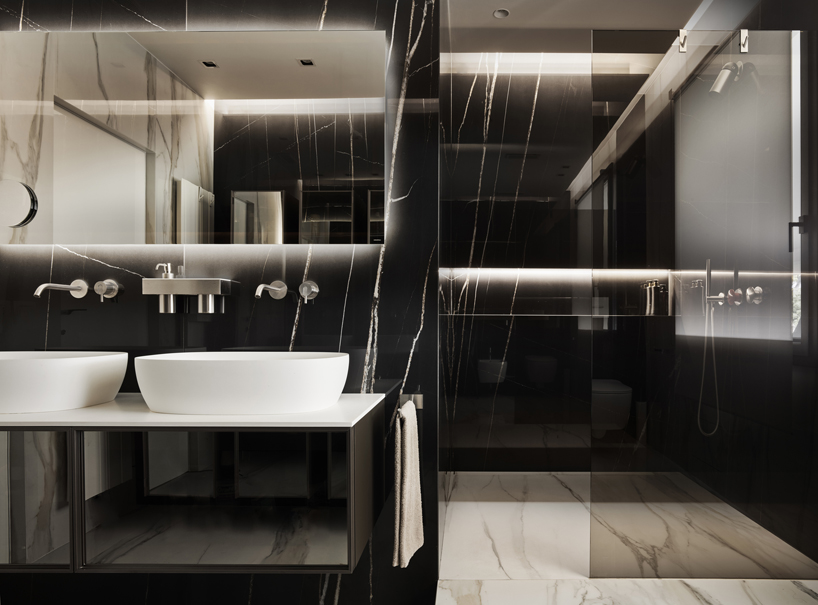 massimo iosa ghini revamps 1960s single-family villa in forte dei marmi, italy