The Kissel Uptown Oakland, a new hotel in a bustling district of the Bay Area city with concert venues, restaurants, cafes and bars, welcomed its first guests on Feb. 24.
The 168-room, seven-story hotel is part of Hyatt's Unbound Collection and boasts multiple event spaces, three food-and-beverage options, a fitness center and several nods to the Oakland community and history of the neighborhood.
The hotel takes its name from the automobile showroom that was once housed in the 1910s Beaux-Arts building, the Pacific Kissel Kar-Dean Lippi Showroom.
Guestroom options include suites with immersion tubs, king rooms with private garden terraces, and a 1,000 square-foot Presidential Suite with floor-to-ceiling windows, panoramic city views, a full wet bar, a large dining table and a separate living area. Guestroom décor features glass globe chandelier lighting, hardwood-style floors topped with patterned area rugs, and colorful industrial tiles.
Kissel Uptown Oakland's lobby. Photo Credit: Kissel Uptown Oakland
The exterior façade incorporates 70-foot glass panels that are positioned perpendicularly like fins and digitally printed with patterns by local artist Kelly Ording. The lobby includes Otto's, an all-day bar and café serving house-made donuts and breakfast grain bowls in the mornings, and tuna poke and gourmet hot dogs in the evenings among other menu items.
High 5ive is a third-floor outdoor terrace with lounge seating around fire pits in addition to an indoor bar and seating area. The menu includes local craft beer, wine and cocktails in addition to an eclectic menu with flatbreads, salads, tacos and chicken skewers.
Occitania, a French-inspired restaurant slated to open in the spring, is helmed by chef Paul Canales, who runs the nearby acclaimed Spanish restaurant Duende.
General Manager John "JR" Reynolds said the hotel will ramp up programming in the coming months and has the intention of being a gathering spot for locals and visitors alike.
"We are part of the neighborhood and part of the community," Reynolds said. "We are planning some amazing things for the rooftop bar, we are partnering with iHeart Radio, with a lot of the local promoters and community, and we've got a lot of amazing DJs lined up."
The property, which also includes 74 residences, is owned by Signature Development Group and Jordan Real Estate Investments and managed by Evolution Hospitality.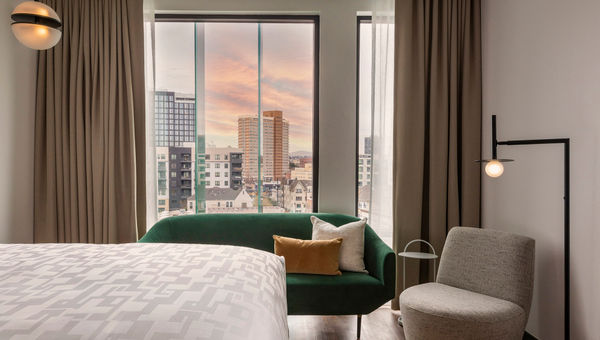 A guestroom at the Kissel Uptown Oakland. Photo Credit: Kissel Uptown Oakland
Kissel executive chef Nelson Ramirez has partnered with numerous local vendors for hotel menu items, including several brands beloved in Bay Area such as Cowgirl Creamery, Chuao Chocolatier, Firebrand Artisan Breads and Fentons Creamery.
The hotel offers more than 10,000 square feet of meeting and event space, and High 5ive can be rented out for special occasions and group events.
"We hope to become a center point for activities, gatherings and celebrations over the ensuing years here in Oakland," said Michael Ghielmetti, president of Signature Development Group.
https://www.travelweekly.com/Travel-News/Hotel-News/Kissel-Uptown-Oakland-opens