Photo by Alain Nogues/Sygma/Sygma via Getty Images, Beverley Goodway/Mirrorpix/Getty Images, Kevin Mazur/MG21/Getty Images For The Met Museum/Vogue and Mike Coppola/Getty Images
Very few houses have revolutionized the world of women's fashion quite like Saint Laurent. Founded in 1962 by French couturier Yves Saint Laurent, the Saint Laurent we know today began as an Haute Couture House, Yves credited for resurrecting the art of couture from its stuffy mid-century ashes. Five years later, the designer launched his prêt-à-porter label, Rive Gauche, elevating ready-to-wear's prestige within the eyes of the French fashion industry. Among the designer's many sartorial innovations are the safari jacket, the skinny trouser, the 80s shoulder pad and, of course, the iconic "Le Smoking" tuxedo, which introduced a new, androgynous look. Yves brought a thoroughly modern vision to the world of fashion, championing confidence, elegance and, above all, ease for women. It's no surprise then, that much of Yves' output was influenced by the women in his life: the demure Catherine Deneuve, the androgyous Betty Catroux, the elegant Mounia and the bohemian Loulou de la Falaise all embody a different face of the multi-faceted Saint Laurent woman.
Today, the label's current creative director Anthony Vaccarello upholds Yves sartorial devotion to the multitudinous nature of women, advancing a hard-edged glamour that harkens back to Saint Laurent's couture origins as much as it evokes the contemporary zeitgeist and the style of its modern muses. Here, to fête the opening of the Musée Yves Saint Laurent Paris' anniversary exhibition "Yves Saint Laurent aux Musées", we take a look at the muses who inspired one of the last century's most influential houses.
Photo by Alain Nogues/Sygma/Sygma via Getty Images
Catherine Deneuve
Catherine Deneuve first met Yves Saint Laurent in 1965. She had just been invited to meet the queen of England, and when she implored her fashion photographer husband David Bailey on what to wear for the momentous occasion, he suggested Parisian up-and-comer Yves Saint Laurent. The one look, crafted for the royal meeting, would mark the beginning of a decades long friendship and collaborative partnership. It was Catherine who suggested to director Luis Buñuel that Saint Laurent design her iconic Belle de jour costumes. Protagonist Séverine's darkly demure style (severe vinyl trench coat, her ivory-collared dress, lady-like pumps) proved influential to the era's fashions and cemented both Saint Laurent and Catherine's status as style arbiters. Throughout the years, the actress has remained a Saint Laurent devotee, accumulating a wardrobe of over 150 YSL pieces and even starring in the brand's 2021 campaign.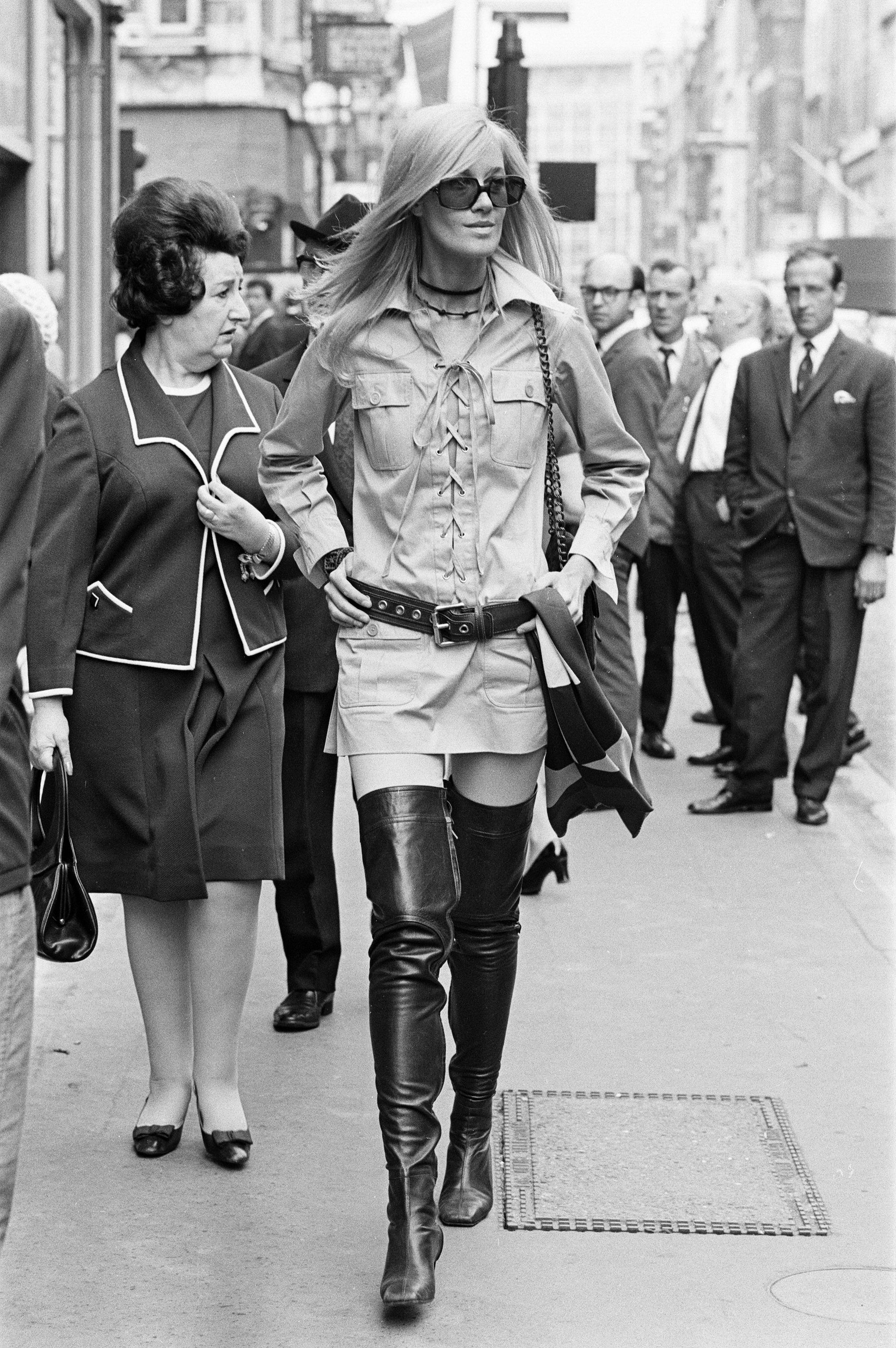 Photo by Beverley Goodway/Mirrorpix/Getty Images
Betty Catroux
No muse better embodies the Saint Laurent ethos than Betty Catroux. The Brazilian model moved to Paris to model for Chanel in the 60s. There, she met Yves Saint Laurent at a nightclub in Montparnasse. According to Yves, it was "love at first sight." In Betty, he caught a glimpse of his "feminine double" and "the spirit of the times." Her androgynous beauty and predilection for menswear fully embodied Yves' vision for the modern woman: confident, elegant, unconventional and seductive. Throughout the 60s and 70s, Betty and Yves were inseparable, travelling the world together and partying with the jet set at Paris' Le Sept. Of course, Betty wore YSL better than anyone else, from black jumpsuits and pantsuits to the designer's signature safari jacket, pictured here, at the opening of Yves' London Rive Gauche boutique. Among all of Saint Laurent's iconic styles, none fits Betty quite like the "Le Smoking" tuxedo, the model's favourite piece and the designer's most revolutionary style.
Mounia
Martinique-born model Mounia began her career in fashion working for some of Paris' biggest fashion houses. She booked her first major modelling gig at the house of Givenchy and she became the first Black model to walk the Chanel catwalk. By the late 70s, however, Mounia was muse to Yves Saint Laurent, her soft beauty, poise and grace inspiring some of his most elegant designs. In 1978, she walked Yves' couture show, also becoming the first Black model to grace the exclusive Haute Couture runways. Of her friendship and working relationship with Yves, Mounia told W Magazine: "I was his first Black muse…. He helped open the door for Black models. Sometimes I was his confidante, and I would sometimes inspire his creativity. He called me Moumounn. […] My last word for Yves Saint Laurent is 'love.'"
Loulou de la Falaise
Born in England to a French count and former model, the inimitable Loulou de la Falaise began her illustrious fashion career in New York, modelling for Vogue, designing for Halston and working for Queen Magazine. Through Queen, she met Yves, who was charmed by her bohemian style, her penchant for crafting elegant outfits from unique flea-market finds. In the early 70s, she moved to Paris, where she joined the Yves Saint Laurent team as the head of accessories and knitwear. In addition to the label's bold and colourful jewellery, undoubtedly, Loulou's nouvelle bohémienne style influenced much of Yves' Rive Gauche designs, which included velvet vests, sweeping paisley dresses and fringed suede numbers. The designer remained Yves' right-hand woman for 30 years, until the label's couture house closed in 2002. Of their partnership Yves said, "Other than her undeniable professional qualities, Loulou de La Falaise's real talent was her charm. Particular. Moving. It was the strange power of a gift for lightness blended with irreproachable acuity and her eye for fashion. Intuitive, innate, particular. Her presence at my side was a dream."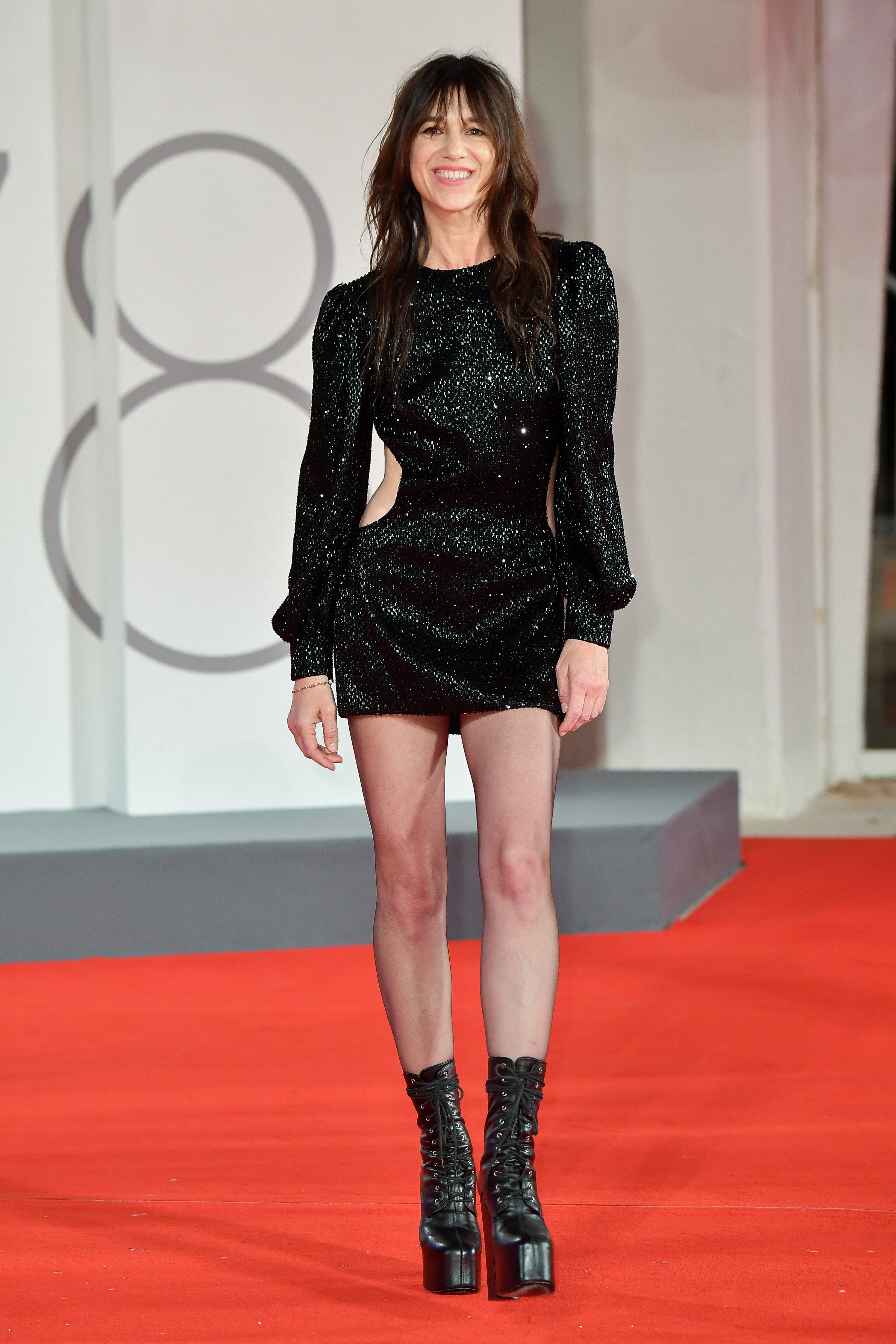 Photo by Stephane Cardinale – Corbis/Corbis via Getty Images
Charlotte Gainsbourg
Daughter of British model Jane Birkin and French music icon Serge Gainsbourg, Charlotte Gainsbourg's pedigree alone makes her a bona fide Saint Laurent woman. Across a four decade-long career that has spanned music (the dreamy 5:55 and a recent collab with Sega Bodega) and cinema (twee classic The Science of Sleep and a trio of Von Trier films), the actress has crafted an artistic identity at once enigmatic and insouciant, sensitive and hard-edged. In those decades, Charlotte's also followed in the footsteps of her mother, becoming a style icon for her garçonne mix of masculine and feminine codes. It's no wonder that Saint Laurent creative director Anthony Vaccarello, with his glam-rock vision, appointed Charlotte as a brand ambassador in 2017, when she fronted its AW17 campaign. Since, Charlotte's graced many a red carpet wearing the brand's glitzy minidresses, immaculately tailored suiting and — her favourite — the denim tuxedo.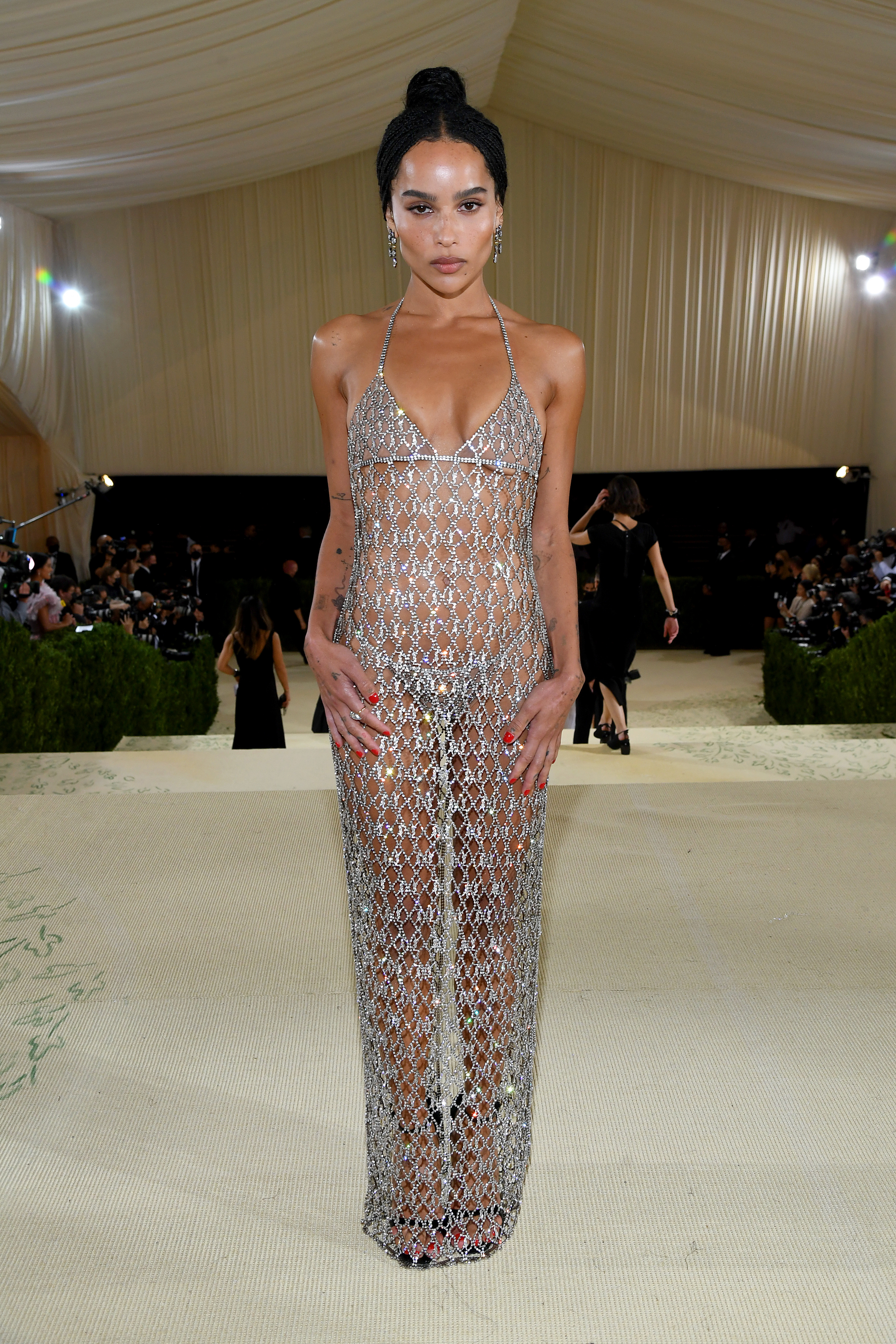 Photo by Kevin Mazur/MG21/Getty Images For The Met Museum/Vogue
Zoë Kravitz
Whether she's starring as a slacker in High Fidelity, donning Catwoman's sleek leather jumpsuit, or simply strolling down the streets of her native New York, Zoë Kravitz oozes cool. In recent years, the American actress has also become one of the internet's favourite style icons for her effortless street style as much as her stunning red carpet moments. (When has Zoë ever had a red carpet miss?) Since being appointed the face of YSL Beauty in 2016, Zoë's graced the carpets of fashion events, premieres and awards shows wearing a variety of Saint Laurent looks befitting of the actress's downtown vibe: leather jackets, velvet bustiers and metal mesh tops. However, nowhere do Zoë and Anthony's sensibilities mesh more than on the steps of the Met Gala, where the actress has worn a trio of ultra-glamorous gowns, their designs inspired both by Yves archives and Zoë's penchant for all things vintage.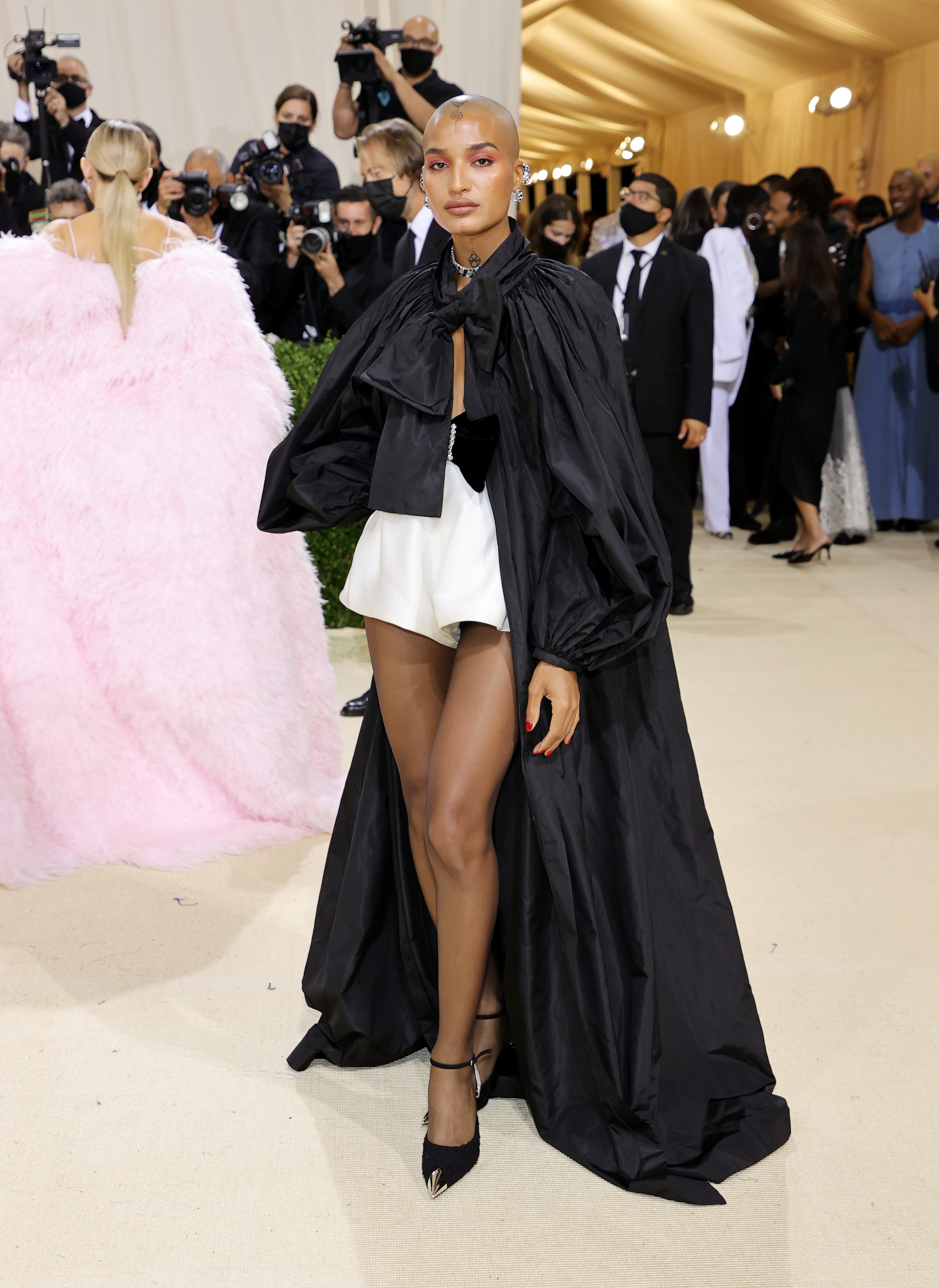 Photo by Mike Coppola/Getty Images
Indya Moore
With their serene beauty, captivating screen presence and incredible grace, Pose actor and model Indya Moore exudes the aura of an Yves-era icon — that certain je ne sais quoi that seems hard to come by today. It comes as no surprise, then, that Indya was tapped to become the newest face of Saint Laurent in 2021, starring in a trippy Jim Jarmusch-directed short film for SS21 and fronting the label's AW21 campaign. Indya's known for their larger-than-life red carpet looks — Iris Van Herpen creations, et al. — and the label has definitely drawn upon their experimental style when outfitting them in designs of couture-like proportions, like this billowing caped look from the 2021 Met Gala.

https://i-d.vice.com/en_uk/article/epxa9z/saint-laurents-most-iconic-muses