Ethan Allen Interiors, Inc. (NYSE:ETD) is an interior designer company, manufacturer, and retailer of home furnishings in a luxury market category. The company's strategy of extensive vertical integration, and its focus on primarily sourcing from North America has positioned it well to prosper during the current unusual market environment of high consumer demand and oversea supply issues. Ethan Allen is working through its backlog of orders even as sales accelerate. I see a current fair value $29.70, which is not much above the current share price, but I think the company has good potential for longer term gains.

Source for image, data, and information: Ethan Allen
The Company
Ethan Allen was founded in 1932 as small retailer offering assorted housewares and other goods. Soon thereafter the owners wished to take more control of their product offerings and purchased a bankrupt sawmill in Vermont. From there, they begin manufacturing home furnishings and their first big line of products were in a colonial styling that was branded in the namesake of Ethan Allen, a notable American hero.
Over their 90 years history Ethan Allen, the company, has grown into a global home furnishing icon. The company's products are distributed through its ecommerce site and in 302 stores globally. The company also owns and operates 9 manufacturing facilities, including a sawmill, a rough mill, and a lumberyard. About 75% of the company's products are manufactured or assembled in North America, with the remaining products obtained from various suppliers spread across several other countries.
All the company's products are sold under the Ethan Allen brand. Many of these products are handmade or hand assembled by Ethan Allen's own staff of artisans, and 70% of products are custom-made for the customer. By using company supplied lumber and company manufacturing, Ethan Allen has a high level of control regarding the quality of the finished product. This attention to quality and the production of custom-made items helps to build customer confidence in purchasing goods that are of a higher quality, and worthy of recognition as a luxury brand.
Unlike a typical furniture store, Ethan Allen takes the concept a step further as it offers design assistance for its customers. This is provided through several methods using technology, such as the "EA inHome®" app which allows clients to preview Ethan Allen products in their homes at scale, and with a variety of fabrics and finishes. Their 3D Room planner allows for 2D floor plans and 3D walkthroughs using the designs they create. The Ethan Allen showroom further allows for a virtual design experience using Ethan Allen's virtual showroom.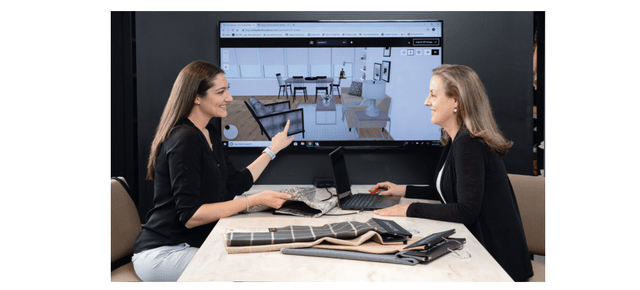 In fact, Ethan Allen stores are referred to as "Design Centers", and the company's retail footprint is segmented into retail and wholesale categories. The company owns nearly half of its stores and calls those the "retail" segment while a little over half of the stores are independently owned in the "wholesale" segment. Although the retail segment represents the lesser number of locations, it also represents the greater part of overall revenue for Ethan Allen. Understandably, the recent trend has been to move toward more retail than wholesale locations as seen in the company image below.

Like most companies, Ethan Allen was adversely impacted by the pandemic. Retail design centers and manufacturing facilities were closed, and sales were limited for some time. But also, like companies of this caliber and longevity, Ethan Allen acted quickly to protect its business, even though some hard choices had to be made.
In FY 20 staff reductions were applied, the share re-purchase program and dividends were suspended, and several other costs cutting actions were applied, including the CEO foregoing his own salary. Also, the company borrowed $100 million from its credit facility.
By the latter part of FY 20, stores were reopening, and manufacturing was starting back. The company repaid half of its borrowing. By FY 21 most of the staff had returned, salary reductions were lifted, all stores were re-opened, the dividend was re-instated, and the remaining debt was repaid. The company remains debt free as of the latest report.
In the aftermath, the company is seeing an increase of customer demand while its manufacturing facilities are working hard on reducing the unprecedented backlog of orders that had built up over the preceding months. The company notes that their business is not typically too seasonal, with no one typical quarter representing over 27% of annual sales. With the backlog and high demand, seasonality has not been a factor recently.
The company has seen supply issues and is also impacted by inflation. Those affects have not been as severe for Ethan Allen, as it has for some companies, however, because so much of their supply is sourced in North America. But they still are affected by shortages of some materials, and the cost of shipping containers skyrocketed. The company was able to apply modest price increases to offset costs, and they were able to decrease advertising expenses due to the additional demand.
In fact, with the shift in consumer shopping patterns that resulted from the pandemic, the company found it better to transition to a digital-first marketing plan. Ethan Allen notes that investments they made over the last 8 to 12 years really paid off during the pandemic as their trained designers were ready and able to work from home. E-commerce sales rose dramatically during this time, and on into FY 21, with an 87.5% increase over the prior year even as customers returned to their stores.

Competition and Growth Potential
The home furnishing industry is highly competitive. Competitors exist in traditional brick-and-mortar stores and internet only retailers. These groups include large corporate businesses and small local operators. Ethan Allen believes that the key competitive factors are based on style and quality, service, prompt delivery, availability, and price.
On price, Ethan Allen won't be the least expensive option. However, I presume that Ethan Allen's standing as a luxury brand may imply the opportunity for better margins. And the company lists several other competitive advantages that they believe set them apart from the competition. For example, the company believes that their high degree of vertical integration is a critical advantage. They believe that their North American manufacturing operations allow then to deliver a high level of craftsmanship, as well as to largely mitigate supply issues that other competitors may be struggling with. Offering made-to-order products is noted as an attractive option for its customers and the company's team of interior design professionals add an extra value in personal service. The company's offer of complimentary design service takes that personal service to another level.
Also, Ethan Allen's network of distribution centers helps with the logistics of moving products. In addition, the company includes the use of home delivery centers strategically located throughout the country to expedite the transfer of its products to the customer. Ethan Allen states that its delivery time for wood products is in a range of 12 to 15 weeks, which they note is a much lower time frame for the industry. Products are distributed and sold under one national price, and the company believes that strategy simplifies its processes while bringing competitive advantages and delivering key insights into customer trends.
Ethan Allen's growth plans include expanding business by adding new design centers, either owned or independently owned, and by growing its sales network of designers to assist customers. The company images below give some idea of where the company is located, although design centers are not indicated separately. But I believe that the data given is enough to determine that with Ethan Allen's mix of just 170 U.S. design centers, and 132 international design centers, the company has ample room for growth.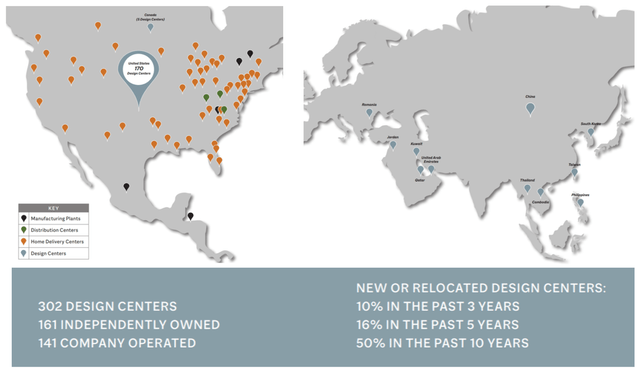 Ethan Allen's primary acquisition strategy is to purchase design centers, or groups of design centers, from its independent operators and to operate those as owned design centers which, as mentioned, involve more profit for the company.
Also, as stated, the e-commerce business with its 87.5% year-over-year growth rate was impressive. But there appears to be much growth potential in that pursuit as well. The company notes that e-commerce still only represents less than 5% of total net sales. Ethan Allen plans to continue to invest in e-commerce offerings and continue their marketing focus on that channel.
Ethan Allen identifies another avenue for growth that fits right in with e-commerce as well as in-store. Company product categories are mostly classified as Classic, Country & Coastal, and Modern. The company introduces new products such as with recent offerings in Outdoor, Home Office, Dining, Bedroom, custom Upholstery, and Accent items. Further, Ethan Allen is looking for opportunities to transition more non-furniture products to being made in North America, which implies better quality and supply control, and more lucrative margins.

Valuation
Ethan Allen's most recent quarterly report provided strong results. Net sales were up 16.4% year-over-year to $208 million and EPS, at $1.05, was the highest level reached over any recent quarter. Great results speak for their selves, but I believe we do have to consider that the company's backlog was being worked down during this time. Also, there is still some backlog left to work through, and so I think that initially we need to consider the recent revenue to possibly be inflated, although real.
The current TTM EPS is $3.17. The current P/E at this writing is about 8, thus the current market share price is a little over $25.00. The 5-year average P/E for Ethan Allen is 22.29 according to YCharts.

If Ethan Allen could sustain the current revenue and EPS levels, then the 5-year average P/E could be justified and allow for a much higher share price. But since we recognize the effect of the backlog, I don't think we can justify the average P/E. This may be obvious as the market apparently agrees by only awarding a current P/E of about 8.
What may be more interesting though is when you consider the point that was made earlier, that while the backlog is being worked through, the company also sees sales increasing. This may imply that once the backlog is gone, the increase in sales may result in higher EPS or in other words, backlog sales may be worked through, but replaced with sales increases. If this were the case, the company could justify a higher P/E.
When you look at past data, this idea may not be too hard to accept. Macrotrends revenue and EPS data shown in the images below does not yet include the most recent quarterly results, but the images do show that revenue from the years just prior to the pandemic was near the level of the most recent quarterly revenue results. EPS tended to average a bit less. I'll just use around $1.50 TTM EPS as a very rough average, but that is less than half of the current TTM EPS.

A TTM EPS of $1.50 at the 5-year average P/E of 22.29 would yield a share price of $33.43, which is higher than today's share price. What is even more interesting to me though is that the outstanding share count has dropped significantly in the same time frame as seen below.

I roughly estimate the drop to be around 10%, which should (again roughly) imply that the previous estimated $1.50 TTM EPS could mathematically equate to $1.65 when adding an assumed 10% benefit from the lower share count. With $1.65 we could assume a share price of $36.78, using the 5-year average P/E.
This could be a fair market price, but I will add in a discounting variable in that if inflation were to persists the company could be affected, and the 5-year average P/E might drift a bit lower. With that factor in mind, I'll use a P/E factor of 18 instead of 22.29. Given all these considerations I believe that the current fair market value for Ethan Allen is (18 x $1.65) or $29.70.
These are just guesses, and just one potential outcome, but barring major market meltdowns, I think the fair price is conservative, and there is plenty of room to upgrade if Ethan Allen continues to perform well. That is especially true if they continue to perform well once the backlog is eliminated. Looking at the most recent EPS, it's not hard to believe that the use of a value of $1.65 for TTM EPS will prove to require an upward adjustment.
One final note that I believe deserves much consideration is the company's dividend history. Although the dividend was cut briefly, it was returned very quickly. The image below from Seeking Alpha demonstrates the dividend growth over time. The 10-year CAGR for Ethan Allen's dividend is almost exactly 25% and represents an impressive return for shareholders who received the benefit. If the company continues that trend or even stays anywhere near it then that would add a great value to an investment.

Risks
The company provides a full list of risks in its annual filing. I recommend reading that in its entirety, but I will add a few notes.
The most obvious risk is if the pandemic were to cause new shutdowns in manufacturing or renewed closures of design centers. The resulting loss of revenue, even if temporary, would adversely affect the analysis herein.
Supply issues may remain a concern for some time over the next quarter or quarters. As mentioned, Ethan Allen believes their limited exposure to international supplies shields them from too much of a negative impact from supply issues.
Inflation may persist and have an impact on sales. At some point goods may become too expensive for some customers, or some people may need to delay spending for the products Ethan Allen offers. The company is currently not seeing inflation causing too much of an issue, as sales are strong, and a backlog exists. Also, it's worth noting that Ethan Allen's target clientele is primarily focused in a luxury category, and those customers may not be as easily deterred by inflation, although you might say many would not be totally immune. A substantial loss of demand would also adversely affect this analysis.
Final Thoughts
I see Ethan Allen as a company that was a bit ahead of its time or at least possessed a good vision for the future. While they were hiring and assembling designers and placing modern tools of design technology in their designers' hands, there also occurred a great interest in specialty TV channels that inspire the interest of homeowners. I'm sure many of the affluent would love to have the TV star home designer of their choice come and remake their home. But homes that are so blessed are among the minority.
Maybe the next best option is a store, such as Ethan Allen, where teams of designers will help you realize your dreams. And to add further value, the service is complimentary with your business. Not everyone may wish to afford the luxury of custom-made designer products, but Ethan Allen may be on the top of the list for many of those so inclined.
I like companies like this, that are long lived, and well prepared for whatever economic conditions that may emerge. If you were invested prior to the pandemic, you may have had to go without an expected dividend for a short time. But the company protected itself, and you, by pretty much ensuring that they would survive during the downturn. Then as soon as they could, they restored the dividend with an increase, and even included a special dividend that made up for a good part of what was lost.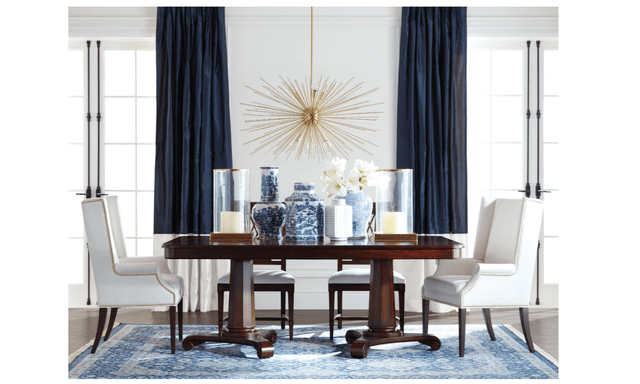 Ethan Allen showed the prudent caution that was needed for the time. Now the table set for better times ahead.
https://seekingalpha.com/article/4485565-ethan-allen-brings-competitive-advantages-by-design