Andrew Alpern has spent six decades in this 17th floor co-op he bought new for $3,000.
Photo: Annie Schlechter
It was late in '64 when I finally had a little income that I decided, Okay, now I can get rid of Mother's castoffs," says Andrew Alpern on a tour of the one-bedroom co-op in the Penn South middle­-income complex in Chelsea he's lived in since 1962, when it was new. "And I went to B. Altman" — the long-gone department store whose genteel building still stands on 34th and Fifth — "and bought that couch you are sitting on. I paid $468, on sale, which back then was a lot of money."
Alpern, 83, often digresses in the course of conversation, one thing leading to another that reminds him of any number of references and stories relating back to his original topic, because he is an expert in excavating the history of life in this city, where he has lived all his life (as did his parents).
Alpern grew up on West 82nd Street. He went to Columbia University, where he studied architecture; as a student, he bought this sensible 17th-floor apartment when it was still being built. After working as an architect for more than 20 years, he had a second career as a lawyer. But he is well known for his 11 books on Manhattan's architecture since around 1860 and has written about, among other subjects, Rosario Candela's buildings and the Dakota. (His most recent book, Posh Portals: Elegant Entrances and Ingratiating Ingresses to Apartments for the Affluent in New York City, was published in 2020.) He's written them all while living in Penn South, which was sponsored by the International Ladies' Garment Workers Union, where resale prices are capped, as are the incomes of buyers, in order to maintain affordability. (There is a long waiting list.) Meanwhile, the blocks around it, especially adjacent to the High Line, have become home to some of the fanciest buildings of our current Gilded Age.
Alpern's apartment in 1969, when it was photographed by Louis Reens for House & Garden's Guide for Young Living. It hasn't changed much since. The Safari chairs have been replaced by Wassily chairs, and the homemade plywood cubes were replaced in 1975 by a stacked-books coffee table from Maitland-Smith. He eventually donated his harpsichord to a music school and installed the filing-cabinet unit in its place.
Photo: Louis Reens
Alpern paid just $3,000 for this apartment. When he moved in, he took down — by hand with a small mallet — two walls that enclosed the eat-in kitchen. He built bookcases; filled the walls with posters from the now long-gone Wittenborn art-book shop; and bought paper lanterns from Azuma, the beloved and also long-gone venue for Japanese paper lanterns and home accessories — as well as one small cubic lantern by Isamu Noguchi. He covered the concrete floor of the balcony with redwood duckboards from the lumberyard across the street (redwood was still legal at the time). But it was his decision to skew the furniture at a 45-degree angle within the south-facing living room that really opened up the space.
His apartment was featured in House & Garden's Guide for Young Living in 1969. The black-and-white photographs by Louis Reens show it very much as it looks today. Over the years, as the books and collections of skulls, claws, and toy soldiers have accumulated, more shelves have been added, and he donated his under­used harpsichord to the Berkeley Carroll School to make room for more storage.
The balcony in 1969. Alpern covered its concrete floor with redwood duckboards and filled in the aluminum railing with bamboo.
Photo: Louis Reens
The balcony today. He enclosed it to make room for more books and mirrored the ceiling for extra light and views.
Photo: Annie Schlechter
The balcony was enclosed, adding more space for books. Today, a dramatic carved-oak throne in the shape of a skeleton resides near the unsigned portrait of Francesco Maria della Rovere, the fourth Duke of Urbino. ("I have a three­volume set of all six dukes of Urbino," Alpern says, "so I know he was born in 1490. He died, probably poisoned, in 1538.") The portrait "was in wretched condition. I had it relined, restretched, cleaned, repaired, and framed," he says. "The only other known painting of him was done by Titian in 1538, the year he died. It hangs in the Uffizi." If the skulls, claws, and the possibly poisoned duke all sound a bit macabre, it's worth noting that Alpern had a notable collection of Edward Gorey drawings, books, and ephemera he donated to Columbia in 2010.
Was Alpern ever tempted to move? "When I bought the place from plans when I was 21, my intention was that it be my permanent home," he says. "And knowing the Manhattan real-estate market, I knew that once I had my own place, it would be forever. We Alperns don't move around a lot." And that B. Altman sofa hasn't moved from where he first put it, either.
The Kitchen and Dining Area: Alpern designed two bookcases to close off the galley kitchen. The original redwood cabinets are still in place; two are covered in reproductions of the walls of the Studiolo Room from the Ducal Palace in Gubbio at the Met. "They are just screwed to the back," Alpern explains. "They happen to fit exactly, and the color happens to be right."
Photo: Annie Schlechter
Alpern added bookshelves in the kitchen to accommodate his ever-expanding library.
Photo: Annie Schlechter
His skeleton chair in front of an unsigned portrait of Francesco Maria della Rovere, the fourth Duke of Urbino.
Photo: Annie Schlechter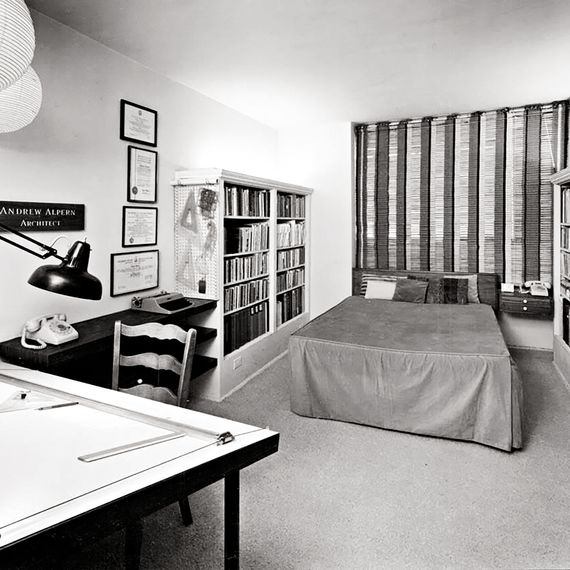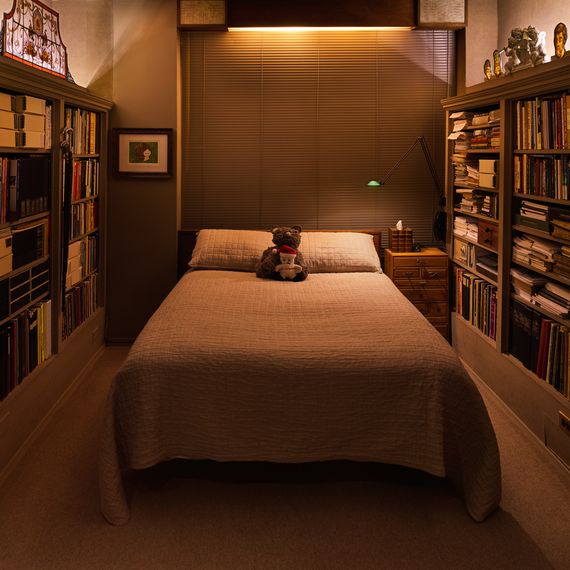 Andrew Alpern Today: He stands next to his dining table in front of a painting by Argentine artist Fernando Maza. The walls are covered in a light fabric with small stained cork chips layered on top.
Photo: Annie Schlechter
https://www.curbed.com/article/architectural-historians-chelsea-apartment-60-years-tour.html