Estimated read time: 5-6 minutes
Winter may seem to be on its way out, but if you know Utah, then you know the weather can be as unpredictable as Sunday night dinner at your great aunt's. Regardless of the weather forecast, it's best to be prepared until well into March and even April for winter driving conditions.
The National Highway Traffic Safety Administration (NHTSA) reports that every year there are tens of thousands of crashes that happen nationwide in wintry driving conditions. Driving in the snow must be approached differently than driving in dry, warm conditions.
Having the right car, like a new Volkswagen Atlas or Atlas Cross Sport from Volkswagen SouthTowne, is only part of the equation for driving safely in winter. Here are five winter driving tips to help keep you safe the rest of this season.
Slow down
This tip might seem obvious, but given the number of people speeding down the freeway in the left (and right!) lanes during a snowstorm, the idea of reducing speed during inclement weather appears to be a foreign concept to some Utah drivers.
Simply put, the slippier it gets, the more you need to reduce your speed. Gary Witzenburg for Car and Driver writes that stopping can take more than triple the usual distance in the snow. Anticipate your moves and turns in advance and keep your steering and throttle inputs as smooth as possible.
Slowing down might mean it takes you longer to get to your destination, but at least you will be keeping yourself (and others) from sliding off into a ditch.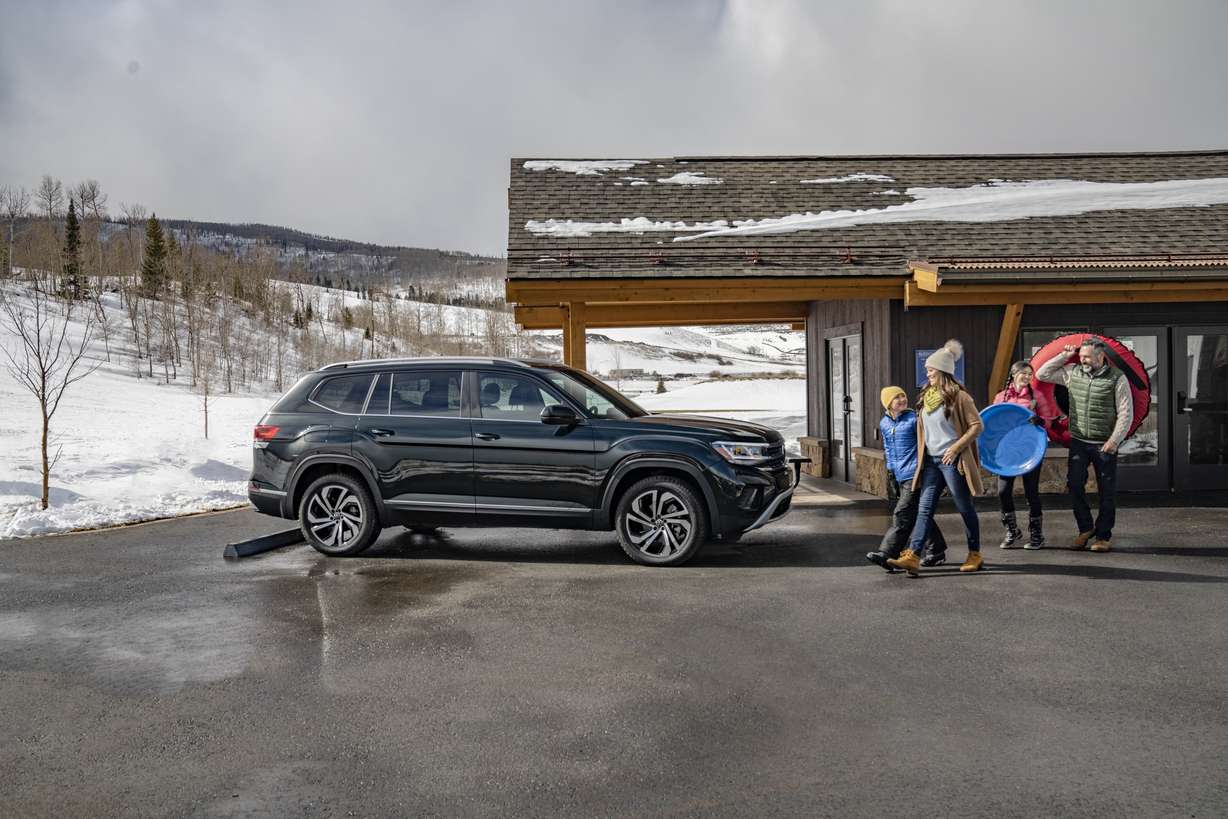 Clear ice and snow from your vehicle before driving
As taught in driver's education, if you can't see, you can't drive safely. If you park your car outside you're bound to deal with ice, frost, and fresh snow some mornings. While the temptation to leave your car and windows covered is real (darn that snooze button), it's also very unsafe.
Take three minutes to scrape the ice off your windows. Volkswagen Test and Development Driver Benjamin Leuchter suggests you take the time to clear snow and ice from all windows and not just the front windshield. Too many accidents occur on Utah roadways because of obstructed vision. The heated seat might be calling your name at 6 a.m., but if you're not careful, you could find yourself sitting in another kind of seat before too long — an ambulance.
Also, be sure to clear the snow off your car. Many drivers, in their rush, to make it to work or school on time will leave snow piled on their vehicle's roof, hood and trunk. It might blow off, but usually, it'll blow right into the windshield of another driver's vehicle. Keep yourself and others safe by making sure your car is clear before you drive.
Give extra space to the vehicle ahead
When conditions are wet there's no telling what it will take to avoid an accident, especially if you need to stop. In winter conditions, it's best to give at least double the amount of space you're used to for the vehicle ahead. The Volkswagen Front Assist feature can help you detect slowdowns in traffic and adjust the space in front of you accordingly.
Having good tires will help you stop and keep control, but even with new tires it is best to keep a healthy distance between you and the next guy.
Read the road, plan, and constantly assess traction
During a drive on snowy road surfaces, your traction will ebb and flow from moment to moment. Newer cars have a wide array of helpful safety technologies, like those in the Volkswagen Atlas and other models, but they shouldn't replace your driver instincts and awareness — especially in adverse weather conditions.
Keep both hands on the wheel, turn down the music, deactivate the cruise control and constantly assess how the vehicle and the road feel. If you sense a loss of grip, don't panic. Slow down, take a deep breath and make slow, gradual movements as you drive toward your destination.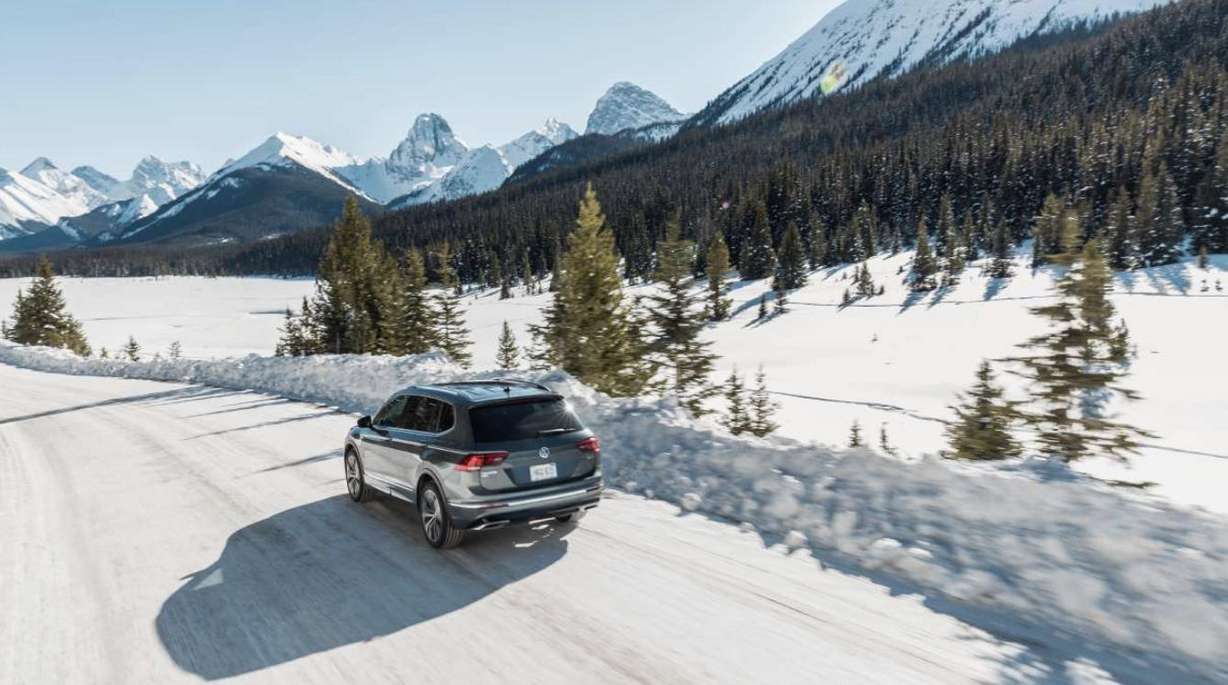 Bonus: Use season-appropriate tires
This one's not a driving tip, but more of an "I-want-to-get-home-in-one-piece" tip. One of the best things you can do for safe winter driving is to equip your vehicle with a dedicated set of winter tires (snow tires), even if you have an all-wheel-drive vehicle like the Volkswagen Atlas Cross Sport.
Winter tires are made from special rubber compounds that deliver superior traction on snow, ice and slush to even the best all-season tires, explains Gene Petersen in an article for Consumer Reports. An initial investment upfront, winter tires are an easy way to get a dramatic improvement of your car's performance in the snow — and to gain confidence behind the wheel.
Get home safely in a Volkswagen
Volkswagen SouthTowne Service Manager Shane Botelho says one tip for commuters, skiers, snowboarders and anyone traveling up to the mountains in winter is to make sure your car's fluids are in good shape and that you get those fluids from trusted sources. "Volkswagen models require specific oil from Volkswagen. Our professional and OEM (manufacture) trained technicians can help keep your car efficient and in tip-top shape in any weather," Botelho says.
Volkswagen SUVs are the perfect choice for any driving condition, including snow-covered wither roads. With their wide variety of safety features built in, you can breathe a sigh of relief even on the snowiest roads. Check all of the Volkswagen models at Volkswagen SouthTowne today.
×
More stories you may be interested in
https://www.ksl.com/article/50345071/5-driving-tips-to-keep-you-safe-on-utah-winter-roads